It is unseasonably cold and rainy here in Texas for October. Don't get me wrong I love cold for like 1 week but it is looking like we will have many weeks of this gross wet cold.  cold weather means soups and stews and fall smells from the kitchen so I do love that.   As we are on this journey and losing weight and getting healthier I am finding that I stay colder then I used to.  Guess its less body fat to keep me warm.  Having a frozen "Nice" Cream for dessert is no longer appealing as it will just make me colder. So I have been having air popcorn.  Works for me but my sweet hubby REALLY likes chocolate and he has been working so hard to get our house ready to sell that I decided to experiment and find him something chocolatey that is not frozen.  Found a couple of recipes and decided to try the No Bake Fudgy Chocolate Cake Bites by Minimalist Baker.  I really like her stuff.  I usually have to leave out the oil and adjust some things but overall I really like her stuff.  Her recipe is here.   Ill post my recipe below.
Carl's Favorite Chocolate Cake Bites (adapted from Minimalist Baker)
Ingredients
Cake Bites
1 cup packed pitted medjool dates(measured after pits are removed)
1 1/3 cup almond flour
1/4 cup cacao powder
2 tsp vanilla extract
4 TBSP maple syrup
1 TBSP full fat coconut milk
Outer Covering
1 bag Enjoy Life Chocolate chips melted
Instructions
Line a cookie sheet with either parchment paper or a silicone mat.
Add pitted dates to your food processor or high powered blender and blend until the dates are small pieces and or a ball starts to form.  Remove dates and set them aside for future use.
Add almond flour and cacao powder to food processor/blender and blend until you see a fine meal. (I ran mine food processor on low for 20 seconds)
Add the dates,vanilla extract, maple syrup, and coconut milk back in with the cacao/ almond meal mixture then blend until a sticky dough forms.  (Mine took about 35 seconds in my food processor).  If your dough is too dry add a little more coconut milk or maple syrup. If its too sticky add more almond flour or cacao powder.  NOTE they WILL BE tacky and stick to your fingers some!
Use an ice cream scoop or a big spoon to get about 1 1/2 TBSP of dough.  Roll it into a ball and place it on your lined pan.  Repeat this until  you have gone through all your dough.
Place your pan with the dough balls into the freezer for 20 min or longer.  i think mine sat for a couple of hours because I got distracted and forgot about them. OOPS!
While they are freezing open your bag of enjoy life chips and place them in a shallow bowl microwavable bowl or a double boiler and melt the chocolate.
Once the chocolate is melted use a fork to dip the dough balls into the chocolate to coat the outside.  The fork allows you to tap off the excess chocolate before you place it back on the cookie sheet.
Do this for each of your "cake" balls. Place in freezer or refrigerator until the chocolate is set.
ENJOY!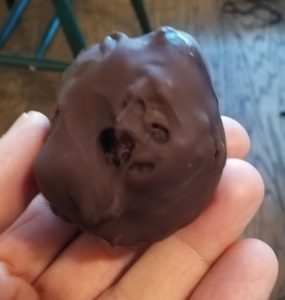 Im not sure how long these are supposed to last but my guess is at my house they won't make it through the weekend.  I would assume they would last at  least a week in the refrigerator.
Stay tuned for more Fall Fun recipes.
Thanks for joining us on our journey. Can't wait to hear about your journey to health.